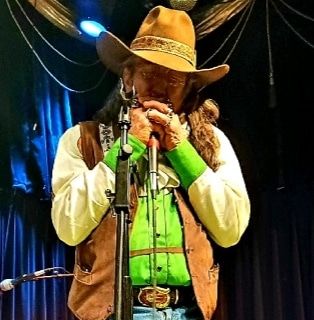 We've been honored to share the stage a number of times at the last few shows with Boots Jaffee.  A few years back there was this game that people played - Six Degrees to Kevin Bacon.  The premise was that everyone in the world could, in six steps, have a direct link to actor Kevin Bacon. That got morphed to Six Degrees to "just about anyone".  Including The Grateful Dead.  In Boot's case he is 0 degrees to the Dead, having done pyrotechnics for them in the late 60's to late mid-70's. Aside from being a huge link to the Grateful Dead, Boots is probably one of the most versatile, accomplished, knowledgeable and just plain nice people we've had the pleasure of knowing and jamming with. 
One thing you may not know about Boots is that he called the late great folk singer and civil rights activist, Odetta "Mom" and she called him "Son". According to an article about Boots in the May 11, 2011 issue of The Greeley Tribune, this incredible relationship began when "he was 15 and attending a workshop at Shaker Village in New Lebanon, N.Y., when he first met Odetta. One of the special activities there was when you would get "arrested," taken in the middle of a stack of hay bales, and you had to do something to get out. He was teamed with Odetta, and to get out of jail, she sang "Wayfaring Stranger," wowing both the small crowd and the teenage boy. 
To this day, that song is the one that "gets" Boots every time. 
It was about a year later that the pair's relationship was permanently cemented. He was with her in Greenwich Village one afternoon, and they walked into one of Odetta's favorite watering holes. She was going to leave him at the bar for a few moments, and he worried out loud that, as just a 16-year-old, he'd be asked to leave. 
If anyone hassled him, she said, "Just tell them you're my son." And from then on, he was. Boots came from a stable, two-parent home, and they welcomed Odetta as part of the family. 
"We had an incredible connection," Boots said. Read the whole article about Odetta and Boots here.